Club Lounge Chair 3D Model Set: Interchangeable Base
Old school retro modern futuristic contemporary chair design.
This 3D model comes complete with 3 base styles: Wire, 4 post chair legs and swivel pedestal.
Click thumbnail for more views from my TurboSquid 3D model site: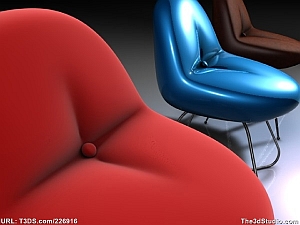 Available in Cinema 4d 11, 3DS Max 2009, Object and 3D Studio formats.
Contact me for your custom 3D modeling needs; illustration, furniture, props, interiors sets, product design prototypes which you would like presented in 3D for visualization, video & print.