HR Tool: Policy Procedure Decision App Design Service
This is a prototype composed in Adobe Flash for a "in-the-field" smart-phone application, procedural decision tree situation guide. The final will be deployed in responsive HTML5 and launched as an app.
Its first deployment will be used in employee policy training and testing, click image to launch: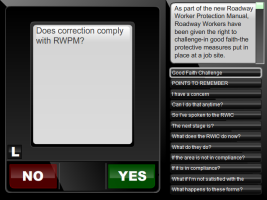 All text are variables for on-the-fly translation capability, as more languages become available, option buttons can be added.
Contact me about using interactive new media to communicate procedures for your employees and even product manual instructions for your customers.