Application: Interactive Electronic Technical Manual
Promotional and Instructive Multimedia Marketing & Education Service Agency
Using 2D and 3D animation, this user guide covers setup, installation and operation depicting the ease of setup and operation for this equipment.
This interactive application also includes a value calculator in which a user can enter their own operating figures to conclude the savings of ownership and unit ROI, complete with a printable report, great for marketing and sales purposes.
Click thumbnail to launch: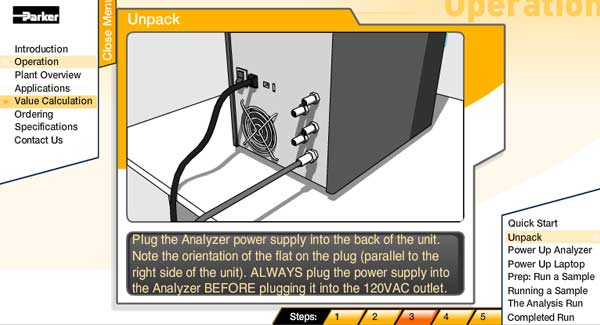 Applications like these can be used for marketing internet websites, distributed as standalone programs, offered as iPhone and iPad apps, embedded in Powerpoint and configured for full-screen kiosk touch screen for trade-show booth displays.
I work with marketing & communication professionals and engineers to produce useful, effective MRO and Sales tools to help grow your business.
Contact me about using interactive new media like Adobe Flash to communicate value to your existing and new customers.