Small Business, Education Institute Website Design Service
This website design service commission in 2011 was for the Northcoast Medical Training Academy's first website: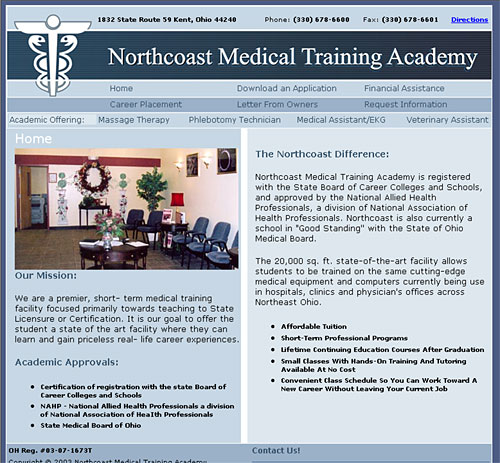 This responsive site provides course descriptions, financing resources, school history, location and contact information with email forms. There is a lot of information to present on this website, which requires a simple, easy to use navigation system featuring obvious categories.
I create affordable responsive web sites for small business and organizations that are easy to maintain and update without programming knowledge, so easy you can do it yourself!
Contact me to help create an effective, search engine friendly website for your business or organization. I can build an internet site for you, that can easily be updated and maintained, from a simple website to one with all the bells and whistles.
I also perform updates and facelifts to existing sites, and can optimize them for high search engine returns and install real-time chat to communicate with your visitors.
Click here for more information!