Architectural Interior Furniture: 3D Model Chair
Contemporary modern space-age recliner
Futuristic furnishing property.
Click thumbnail to examine more views: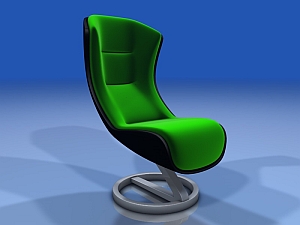 Available in 4 different formats, from my TurboSquid site. The archive files contain the model with a choice of polygonal resolution, from low to high. The Cinema4D version uses hypernurbs, which you can adjust to a suitable level of smoothness.
Contact me for your custom 3D modeling needs; illustration, furniture, props, interiors sets… even your design prototypes, which you would like presented in 3D for visual presentation, video & print.