Acrylic Painting Abstract: Digitized for Print
Recently I've been digging through my old work, a form of self anthropology…
Almost 20 years ago, I painted in acrylic (Ah the days before these fancy computers!) and this was one of them. I always liked the abstract liquid goopiness of this design and always wanted to do it better.
This is my first attempt at a digital do-over:
It's such a fun design, I'll likely do variations of it, thanks in a big way to the flexibility that digital media offers.
A larger version of the final render is available for download here: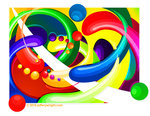 ---
This design is also available printed on canvas, postcards, mousepads, magnets and other swell specialty stuff here!